Carrot Cake (Vegan, Oil-free, WFPB)
This  delicious carrot cake is beautifully soft and full of fruit goodness combined with carrots and walnuts. Made with no oil, vegan, this whole food plant based carrot cake recipe is great for pot lucks, parties and great to share around. Keeps up to 3 days in an air tight box, if it lasts that long.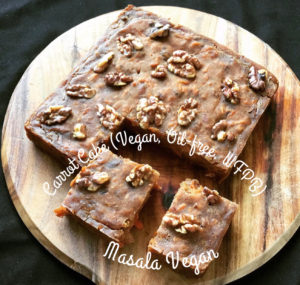 We need for this delicious 
Carrot Cake (Vegan, Oil-free, WFPB)
,
1.5 cups Carrot, grated

1/2 cup Apple, puréed until smooth

1 cup Pineapple,

 

process into a mashed but chunky texture

1/2 cup Desiccated Coconut

1/4 cup Golden Raisins

2 Tablespoons Walnut Halves

1/2 Tablespoon Vanilla Essence

1 teaspoon Apple Cider Vinegar

1/4 cup Water, may need a few spoonfuls more depending on flour used
Dry ingredients,
1.5 cups Wholemeal Self Raising Flour

3/4 cup Date Sugar

1 teaspoon Baking Powder

2 teaspoons Cinnamon

1 teaspoon All Spice Powder

1/2 teaspoon Nutmeg Powder


To Make,
1. Cover a large 10"  pan with  nonstick baking paper.
2. Preheat oven to 180 degrees Celsius.
3. Mix the pineapple, apple, carrot, ACV & nuts together.
4. Blend the date sugar in with water and whisk until dissolved.
5. Add in the cinnamon, nutmeg and all spice powder.
6. Fold in the self raising flour and the baking powder. Whisk until a smooth batter forms, important not to over-mix.
7. Pour the batter into the prepared cake pan.
8. Place the walnut halves on top of the batter.
9. Bake at 175 degrees C for 30 – 35 minutes, or longer. Check if the middle is cooked by inserting a skewer.

Note:
Batter works well with baking 12 large muffins or, two 7″ layer cake pans too. Use the Cashew Creme frosting to sandwich and ice the cake/ muffins from this recipe.
If you liked this Carrot Cake (Vegan, Oil-free, WFPB) recipe please see here for a delicious Berry Bundt Cake recipe.